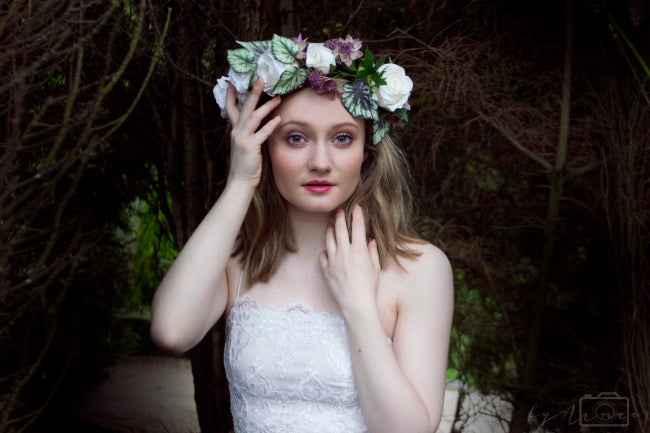 Botanical Gardens Photoshoot Manchester
So recently Elsie Rocks took part in a photoshoot set in the picturesque settings of Fletcher Moss Park and Botanical Gardens.
Having recently created some new designs, this was the perfect opportunity to show them off. Photographer Aimee, picked the location and Gwyneth, model for the day, did an amazing job of bringing the crowns to life.
Aimee took time to find the perfect setting and back drop to do the crowns justice in her bohemian styled photoshoot.

I have been moving away from the bigger oversized crowns as, from a commercial viewpoint they're not everyones cup of tea and the smaller ones are generally favoured as they are easy to wear and more subtle. However, there are always those brides who really want to make a big statement on their wedding day (and why not!), whether it be their dress, venue or hair accessories. Plus, they are such fun to make!

I've always steered towards ivory flowers with greenery for most of my bigger crowns as these are always a popular more natural looking choice, but not wanting to shy away from colour altogether, I recently created a big bold brightly coloured oversized crown for those who love colour.

For the bright flower crown, I decided to use flowers that we are pretty familiar with in a typical english garden. Many of them I grow in my own garden. I'm not that great at keeping flowers alive, but the marigolds always seem to see it through to the end so I wanted to give them a place in the crown. These along with other garden flowers formed the base of the this crown.

For the ivory crowns, roses were my first choice. Ivory roses with a hint of pink blush and intertwining begonia due to their interesting and distinct patterned leaves.

And for while I've been wanting to create a 'spring meadow' type crown using flowers that you would see growing wild, whilst on a walk through the meadows in glorious sunshine.
It's important that the artificial flowers I use look as real as possible. Often is the case, that many wedding guests think they're real which is great.
Currently Aimee is working on her own professional project called Manchester Sessions and contacted us to be part of her shoot. Aimee is looking to promote local businesses, places of interest, models and make-up artists which is a great way to promote small businesses and local people. To see more of Aimees work and projects check out her Facebook Page.
Gwyneth is a model & actor studying at ALRA and you can look at her portfolio here.
Credits
Photographer: Photography by Aimee
Model: Gwyneth Evans
Location: Fletcher Moss Park and Gardens